It's extremely difficult to narrow down the top 10 things for tourists in Russia, but even though this is definitely not an all-inclusive list of everything there is to do in Russia or even in Moscow or Peter, these are must see places.
1. день победы, or the Day of Victory-May 9th in Russia
After living in Russia, I can say that this is hands down the greatest event to go to in all of Russia. This is to celebrate the Allied victory over the Nazis in WWII, a war that cost more than 30 million Russian lives. Almost every living soul in Russia has been affected by WWII. They either had family that fought in the war, or they themselves fought in it. The parades are amazing and quite moving really. They're held in about every major city, and the old vets will come out and are presented with flowers. These vets are aging, however, so don't wait too long to visit the parade.
Also, don't be too concerned about getting on Red Square for the parade. Putin usually uses it as a show of strength to foreign dignitaries, so the square is locked down for like a mile radius. My friends and I tried to get close, but were shut down at every entrance, and had to watch it from afar. After the parade ends, however, you can walk onto the square.
2.Visit Red Square
This almost goes without saying. If you're in Moscow, you should go to Red Square. But while there you should make sure to visit the amazing Cathedral of St. Basil. Rumor has it that the architect was commissioned to celebrate Ivan the Great's victory in Kazan, and once he finished, his eyes were burned out to prevent him from creating anything like it again. Also make sure to visit the GUM, it's the huge Russian mall directly on Red Square. Russians have a joke about how a man came back from Paris having bought a brand name tie for $200, and his coworkers ask, why'd you go all the way to Paris to buy it, when you could have bought the same tie for $10,000 in the GUM? Ok, so maybe they're not that overpriced, but it's all brand name stores, and you can spend a loooot on very little.
After GUM, make sure to visit Lenin's monument. It's been closed often, so check to see if it's open. And then visit the big museum on the end. All great stops, in one huge square.
Sometimes you get lines like these
3. Walk the mile long Gardens of Peterhof
Ok, so honestly, I am not the greatest fan of the Gardens of Peterhof or of Versailles. In both cases, I think they're much more bushes and trees than actual gardens, and if you're really looking for good gardens visit the Moorish gardens of Spain or large British ones, but the gardens are not the selling point of Peterhof. No, what makes this such a treasure is the amazing artwork on the statues and fountain that literally continues for a mile down towards the sea. This awesome palace is a must see if you're ever in St. Pete.
4.Visit Catherine's Palace
This has long been on my bucket list, but I didn't actually know it was different from Peterhof until it was too late. Don't make the same mistake as me! They are both accessible from Petersburg, but make sure to block out time to do them both!
5.Go on a tundra pilgrimage to Belogorsky Monastery
Another huge bucket list item. This monastery is located far away from almost anything for a casual Russia traveler. You need to add this to your list to reach it as it is far off in the middle of Russia in Perm. Yes, that is Siberia, and yes it is worth it.
6.Take the trip of a lifetime on the Trans-Siberian Railroad
Perhaps this should be #1 on the list, but it's so hard to choose from a lot of these places. But one thing is for certain, if you want adventure, a trip on the Trans-Siberian Railroad will be just that. The trip can now be done from Moscow to Vladivostok in just 7 days! But you can take your time and get to know Russian cities along the way. You can buy tickets through Mongolia and the Gobi Desert, straight through to Beijing as well. Alternatively, you can also hop on a connecting train in Paris or even Hong Kong. Talk about a loooong trip by rail.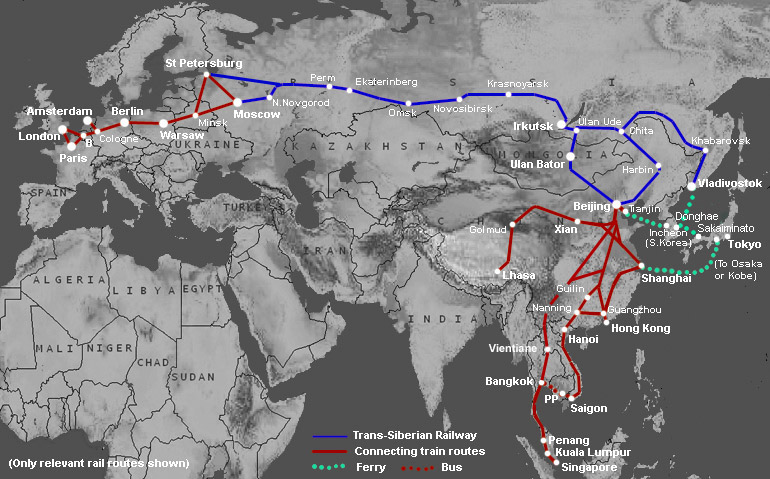 7.Eat Xolodec
I put this somewhat jokingly, but if you get a chance to eat the Russian version of cold meat jello. It is truly an unforgettable experience, aka you may throw up afterwards.
There are many good Russian foods however. Make sure to eat some Borsch and then a spinach soup that has a lot of different names. These are both soups. Also make sure to eat Shashliky, or shish-kebabs as they are done very well in Russia. Additionally, you may want to try some Kvas, which is like a cokish drink of Russia.
8.Visit Sochi
Made famous by the Olympics, this great vacation spot is great in summer or winter. It acts a lot like California, with beaches and mountains with snow not far away. Come for fun in the sun by the beach or with snow in the mountains.
9.Tour a museum in Moscow or St. Petersburg
Russians are known for their love of the arts, and the beautiful museums of Peter and Moscow really show that off. Besides visiting the renowned centers of world art like the Winter Palace in Peter, you should also make sure to stop off at some of the brilliant Russian art galleries throughout the country, and especially the national gallery in Moscow. This is still one of my favorite galleries in the world, with artwork from an enormous country and vast history, this is a visit you will not want to miss.
One of the most famous works of Andrei Rublev
10.Visit all the cities in the Golden Ring
Ok, so no one really knows exactly how many cities make up the Golden Ring. These are normally considered the cities that maintain a lot of the history of Russia. Much of it deals with the constantly moving Russian capital city as Muscovy slowly grew. Major cities include Yaroslavl, Suzdal, Vladimir, Sergiyev Posad, and Ivanovo. Many of these sites are UNESCO sites and are well-maintained and well worth the visit.
Suzdal